There is a big event coming up
You want a DJ to perform at this event and you want it to be perfect. What is the DJ worth to you? What is the event worth to you? You reach out to Social Media and ask your friends. They tell you about this "One Guy" they know that did them a favor and was super cheap. When you ask if he was good, the answer is always the same… "meh, he was ok".
Why is that? What makes some DJs more expensive than others? How can you tell if you are getting a great deal?
Let's break it on down.
There are many factors that go into the cost of a DJ, for example the type of event, weddings cost more than birthday parties because of the amount of prep work and what is expected from the DJ. Another factor is the market "area" you live in. DJs with the same gear, the same skills, and the reputation, should be able the same hourly rate. I mentioned "skills" as being a unit of measure when it comes to cost. But it is not what you think. I am not referring to scratching and doing all kinds of tricks behind the decks, I am talking about being able to read the crowd, get them off their feet and make them forget about all their problems for a few hours. Being able to keep the crowd moving is an art form. Knowing what song to play next is very important. Going through the music collection and making sure the quality it there, crappy music out of very loud speakers is just loud crap. Also need to make sure all the music is "clean" aka Radio Edits. DJ gear, most DJ gear is very expensive, in order to fill the room with music when there are 150 people on the dance you need good speakers. People are like sponges and absorb sound, so if the speakers are consumer grade then back of the room would never hear the music because they do not put out enough sound.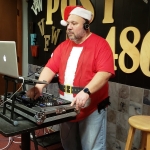 Let's talk about a great deal
How do you know you are getting one or not. First this requires you to do research in your area. There are places like Google, Thumbtack, and Bark. These places have DJs and some post prices. Most of the times these are low but not too far off. Next, reach out via Social Media, open the dialog up and see what they have to offer. Ask for references!!! Don't jump at the cheapest DJ. As tempting as it may sound. There is a reason why this person or company is cheaper. It could be that they just moved into a new area, it could also be that are desperate for business and will undercut everyone to get it. When you make your choice remember to keep your moral compass handy. If it sounds too good to be true, then it probably is.
In closing I would like to leave you with this one thought. You wouldn't hire the cheapest carpenter to build your house without doing a good amount of research, then why would you hire the cheapest DJ to do a once in a life time event like a wedding or Sweet 16, and end up with "meh, he was ok?" Be sure to see beyond the green and make a solid decision.
DJ Bott